If God gave me an option to go back in history and change one thing. Then I would ask God to change the mindset of the first parent who thought that having an "Brand IIT" embryo is the highest form of salvation in this world. It really evokes fury in me when I think of parents gossiping endlessly with uncles and aunties flaunting that their son/daughter just made it to the IIT.
Dear Uncle Jis and Aunty Ji's fuck you all. Because Life is not just securing a degree from top colleges. There is much more to it. Life is not just reading, attending tuitions, wearing thick glasses and ending up being a nerd. Life is much more than that. Allow him be a nerd like Mark Zuckerberg. Allow him to be the next Mozart or the Steve Jobs. Fuel his dreams. Fire his passion and please…
don't let the society decide what your kids have to be.
With this I today share 3 stories from our own India, which are worth reading. Each one has had his own share of struggle.
A band which took its music from MSRIT hostels to very different level.
A one time hit band now lying dusted
A biker with BROKEN BONES, THIRD DEGREE BURNS, OVER EXERTION, OVER EXHAUSTION, THAT'S WHEN HE REALIZED HE WASN'T INVINCIBLE. THEN WHY DID HE DO IT?
Just as I opened the daily newspaper, I found an article on a band called "Divine Raaga" and somehow the interview of the band made me explore a little more on them. The first thing I did was to search the band name in Facebook and find whether are there any friends of mine who have liked it. A page with almost 11K Likes and very few updates did not deter me from exploring more about them.
Here is a list of the tracks from this band.
I googled their band on Soundcloud and heard the song "Baarish" and I liked it very much just like how I liked Heretic Choice Band.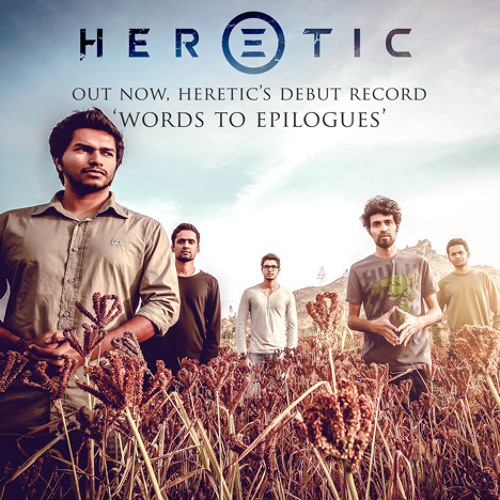 What fascinated me about this band and Heretic Choice was the amount of freshness they brought with each song. My friend Kishore Kumar is a big time metal head and always keeps flaunting metal culture with his cool tees and band logos. I once happened to travel with this guy in his car…. and more than the traffic of Bangalore….. the amount of bass which came out of his car stereo growling metal tunes scared the hell out of me. But, to explore that wierd world, I started searching for metal songs from India and stumbled into Heretic Choice.
I mean, listen to the below track… I am sure you will leave with a LIKE on their track. There are totally 9 tracks from this band and each one is unique of its own kind.
The band also has bagged some awards from RollingStone as well.
Bands like these are a treat to Music Lovers. What they need is support from people like us. Ask any band, and you will get to see their struggles to keep it alive. We see many youngsters today with an electric guitar, long hairs and hip style. But very few thrive to sustain this lonely journey. The biggest challenge comes with the composition of original music and then the most difficult part of recording it and promoting it. Thanks to Youtube and Soundcloud.com which is bringing out the talent straight from the streets of India.
In a country like India, where kids are more valued if they are engineers or doctors it is quite difficult to pursue a career like these and survive for a very long time. Thanks to PlanetRadioCity Freedom Awards, The Hindu MetroPlus for featuring unique bands like these to more and more people.
Similar to the Music Bands Saga, is yet another passion which is always sidelined by parents calling it as "Bakwaas" … welcome to the world of Biking. One such person, who I really admire is Mr. C S Santosh. His website speaks BROKEN BONES, THIRD DEGREE BURNS, OVER EXERTION, OVER EXHAUSTION, THAT'S WHEN HE REALIZED HE WASN'T INVINCIBLE. THEN WHY DO IT?  SCROLL DOWN
What unfolds next is a real treat to any biker. Santhosh is India's finest off road racer. His journey into the world of biking , that too in a country like India is really an inspiring one. I suggest you to read more about his struggle and his glory here
Here is the story of how in the middle of the desert his bike got into fire and how bad was his situation
http://timesofindia.indiatimes.com/sports/racing/top-stories/Bangalore-rider-suffers-burns-in-rally-accident/articleshow/19834875.cms
Santhosh has really created a benchmark in the history of off road racing in India. He is a real life hero who has taken the effort to swim against the current and reach the pinnacle of success.
So what is the final conclusion after the 3 stories?
All these folks have reached a point where personal satisfaction and spirit of following one's own passion takes a front seat and money takes a back seat. Why then, our parents still feel our kids are ACHIEVERS only if they become Doctors/Engineers? This thinking pattern has to change and it takes each one of us to educate this to people around us. Recently I started teaching few kids near my home, and the first question that those kids asked me were "Maam were you a topper in your school?" I said NO. and then all I got was a smirk from them. Later I made them realize that securing marks are not the only things in life.
Look, how our society has molded our tiny tots !!!
Out of the 3 stories, its upto you whether you consider them as successful people/failures. According to me success must never be measured by how much money one earns through his passion. Success is a journey not a destination. You have to fail many times to be a successful person in your life. And during those times of failures, we should not lose hope.
On this note let me present before you some funny memes which represent the true nature of some Indian Parents.
Last but not the least, the million dollar line which has ruined millions and millions of dreams and is still breaking dreams of another million is LOG KYA KAHENGE (What will people think?)
What people think about your son is not so important than what you think of him. Gossip Mongers and Relatives talk about your son for 2-3 months, but your son's life will be ruined for another 40 years just because you thought LOG KYA KAHENGE.