How many of you have purchased high net worth gadgets right after you started earning a decent amount of money by swiping your credit card?
How many of you have bought an insurance scheme/policy just to get some tax benefits without even knowing the payout period and the immediate benefits that it will offer to you and your dependents?
How many of you have blindly followed some article and invested more than 40% of your income into only one mode of investment (either mutual funds or SIP's)?
How many of you now regret looking back at the choices that you have made?
If you have said yes to any of the above questions, then this blog post is for you.
Financial literacy is one of the most important skills that we all have to learn in life. I am glad that my blogging Guruji @theonlysup introduced the word "financial planning" in my life. So was I wise since day one? Hell No. Inspite of he telling me the pros and cons of not planning your finances properly, I chose to go ahead and fuck up things for my own self. I almost got into a credit card debt of Rs. 25,000 at one time. I was clueless as to how to start managing my money and come out of this credit card trap.
Our education system is so pathetic that we are taught the kind of Math which we never use in life, we are taught the geography of nations which we never visit until we are in our thirties…. and we are forcefully fed so many unwanted concepts that we hardly use in our daily lives.
I wish if every curriculum made it mandatory to learn saving money and to understand the various modes of investing money, society would be a much better place.
People would no longer associate the topic of "personal finance" as taboo.
People would chart their career choices as per their necessities in life. People would not go ahead and grab that glamorous MBA degree just to slog under some big MNC in order to clear their student loan.
People would think twice before buying that eye-catchy credit card which offers some bounty as cashback.
People would hound for the perfect method of investing money and calculate the payouts on their own and would be more aware of where to invest how much.
I am going to write a series of articles here on my own experiences with money.
I am going to share my mistakes and my wrong calculations which led to so many hassles at one point of time. I will also share some nice snippets of information if you are willing to know the various kinds of policies that exist in today's current market situation.
If you are looking at something specific to be answered here, please let me know. I will be more than happy to read, understand and then write about it.
Coming back to my title, "Are you prepared for the ups and downs of life?"
This was a question which was asked to me by my personal finance advisor recently.
With great confidence, I said "Yes" (I mean who the f*** cares)
He then asked, "How much risk cover have you planned for your family?"
I was like "Risk cover? I got some couple of LIC policies and some minor RD's"
He was having this expression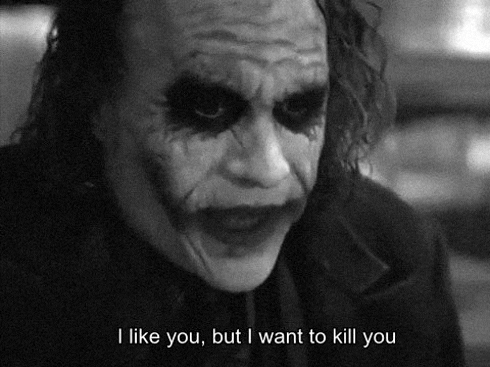 It was then, my advisor explained me about the various types of risks that one can come across in short span of life, the depreciation of money that happens every year, the various ways of planning our risks, analyzing how much money would be required at what age etc.
He further took time to show me the different kinds of insurance policies that are currently running in the market,  their benefits and why he took a particular policy and why he closed some etc.
I was amazed to see how a guy of my own age is having so much knowledge about all these. With each passing minute, I was feeling ashamed of all the poor choices that I have made over these years.
He then told me about the five common mistakes in financial planning that stops us from achieving our financial freedom on a long run. They are:
Ignoring inflation.
Underestimating expenses.
Starting to save too late in life.
Investing too aggressively or too conservatively.
Investing with the sole motive of saving taxes, without a bigger goal.
I had committed most of the mistakes too early in life where I should have taken a step back and analyzed my needs.
One should always keep in mind that the future is uncertain. Whatever decisions you make today will affect your financial responsibilities accordingly.
If you are married, your kids would be affected by your decisions. If you make a good move, then rest assured they will be having lesser debts when they grow up. If you make a bad move, then you will be burdened with lots of financial hurdles in order to secure their future needs.
Another important thing that one needs to keep in mind before taking any insurance product online is that
How will this pay my bills when I am retired?
Does it give me the option of compounding my principal amount or is it subject to market risks?
If you are still in your 30's then before buying any product you need to ask
How does this insurance product help me secure my finances?
Does it offer any protection against medical emergencies?
Does this product help me in wealth creation during my retirement years?
Always remember ups and downs are part and parcel of life. There is no running away from them. But the only thing that you can do is to protect yourself from those risks by thinking what's best for you and taking the right decisions before purchasing any product or policy online. With sites like policybazaar and lots of youtube channels and blogs, it's much more easy to educate yourself and make the correct choices.
Do not fall into any obligation and buy something just because your friend opted for it.
Do not buy anything without reading the pros and cons (the lock-in periods, the growth and the payout clauses etc).
It's okay to be late but it's not okay to never buy any risk protection for your family leaving them vulnerable towards the uncertainties of life.
Everyone at least once comes face-to-face with one or two of the below mentioned financial needs in their lifetime:
Short-Term Goals (in your 20's to 30's)
Wealth Creation
Child's Education
Child's Wedding
Family's Protection
Retirement
In my future posts, I am going to cover the above mentioned six major financial needs that people face in today's world and how to go about them.
Feel free to read and give me feedback on each of them. Alternatively, if you need any clarity on any personal finance related things, please leave your query in the comments section below.
Thanks for stopping by and giving it a read.
— ARK